Jim's interest in photography began at a very young age,but became a passion after he saw his first Polaroid image develop before his eyes. He was so excited to see his ideas come to life instantly. He began photographing things that interested him and then wanting to buy more equipment, began working weekends photographing weddings for a local studio and then as a freelance photographer for the Rochester Democrat and Chronicle and Times Union newspapers to help pay for college. He graduated from RIT with a degree in Photographic Illustration in 1968. While there, he was amazingly fortunate to have classes with Professor Charlie Arnold. Charlie had a phenomenal influence on Jim's work. He taught him how to see and appreciate light and how it dances and enhances everything it touches. Charlie's superb visual sense, caring and awesome ability to teach will never be lost or forgotten. They became lifelong friends and he was Jim's constant mentor. Following graduation, Jim spent four summers with Minor White of MIT. He had always appreciated and been influenced by Minor's work and strived to learn as much as he could from him. Minor taught Jim to dig deeper into his feelings and to photograph in a state he called "heighten awareness." Jim is most known for his abstract color photographs which take you on a trip to another dimension in time and space. He has a passion for distilling the essence of things. You don't know where you are or how big what you are seeing is. You just get to enjoy the exciting journey traveling to somewhere you have never been before. Over the years his photography has taken him to unforgettable places around the world. He has photographed expeditions from cross country skiing on glaciers in Alaska, to running rivers in a rubber raft and kayaking in the ocean. For the last several years he has been going back to his roots of street photography, focusing on Cuba, Peru and Brazil. Jim has been given the privilege of simply photographing the daily lives of the people he meets. He is humbled and welcomed by people who have so little in material possessions but whose hearts are filled with love. Jim finds it an honor to meet the warm and gracious families and to be invited into their homes and lives. His goal is to capture images that touch the heart, photographing the mysteries and magic appearing before him. Enjoying strange encounters in fascinating places, sharing food, laughter and music with simple yet friendly people. Many of the intimate images express both the happiness and deep sadness from their life's encounters and the many challenges and surprises they have faced. Jim's work has been published in numerous national and international magazines as well as photographic publications including Aperture. Most of his work is now exhibited and sold thru Fine Art Galleries to grace the walls of homes and offices.
April 23, 2008 – May 18, 2008 Image City Gallery
722 University Ave. Rochester, NY 14607 "Dancing with the Universe"

Artist Talk | April 29, 2008 7pm September 22, 2010 – Oct 21, 2010
Rose Lehrman Art Gallery | HACC Harrisburg, PA 17110
Artist Lecture | September 23, 2010 5:30pm–6:30pm
June 12, 2013 – July 7, 2013 Image City Gallery
722 University Ave. Rochester, NY 14607 "Spiritual Moments"
February 24,2015 – March 22, 2015 Image City Gallery
722 University Ave. Rochester, NY 14607
"Retrospective" Rochester Contemporary Gallery
137 East Ave. Rochester, NY 14604
December 3, 2015 – January 17, 2015 Rochester Contemporary Gallery
137 East Ave. Rochester, NY 14604
December 1, 2017 – January 14, 2018 Rochester Contemporary Gallery
137 East Ave. Rochester, NY 14604
December 7, 2018 – January 31, 2022
Artisans Loft | 4135 Mill Street Pultneyville, NY 14538         
Rose Lehrman Art Gallery | HACC Harrisburg, PA 17110                                                                                                                             
September 1, 2022 – September 30, 2022
Artist Lecture September 22, 2022 6:00 p.m. – 7p.m.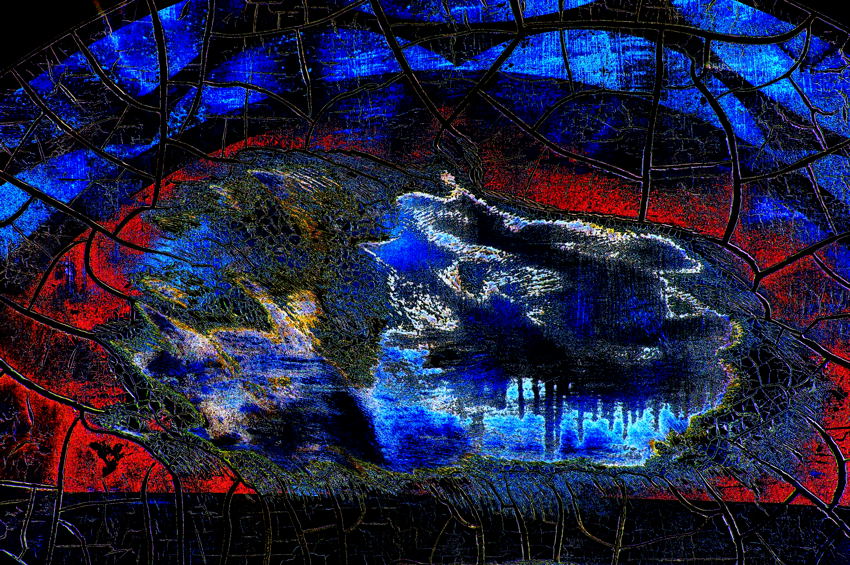 Spiritual Moments
by Jim Hartsen
Like in all of Jim's exquisite prints, the visual impact is outstanding and electrifying, jarring a viewer's expectations of reality by taking one into an enchanting and mystical world of wonder and breathtaking beauty. The powerful saturated colors arouse the viewer's emotions and captivate one's subconscious, resulting in seeing the image as something transcending the ordinary, and the liberation of one's vision.
Fully aware of Ralph Gibson's apt quotation, namely, "Reading things into a photograph is the prerogative of both the artist and the photographer," I will attempt to convey what I saw in this stunning print. My immediate first thought was that I was looking at a surrealistic graphic representation of the cerebral cortex of the brain, where both hemispheres, instead of being joined by a large bundle of interconnecting fibers, were in fact being separated by a forceful stream of liquid that emptied violently into the base of the skull. Then immediately breaking through stereotyped perception, I was excitedly aware that I was clearly envisaging a large, enraged animal plunging into the water, displaying an inflamed, flared nostril and a wide open eye, both of which were clear evidence of a possible threat, or of some delectable prey in its vicinity. The left eye and nostril were closed, possibly to minimize the crushing entry into the water. Such was the force of the impact, a gigantic spout of water was displaced and sent like a rocket vertically upwards, whilst the spray from the force of the entry, obliterated all of the detail of the beast's giant head.The vibrant colors above the animal's partially visible nasal structure, are fitting indications of its strength and intensity. I hope that every observer will take the time to visualize for themselves what they see in this stunning and dramatic image. (#H1038).
Peter A. Marr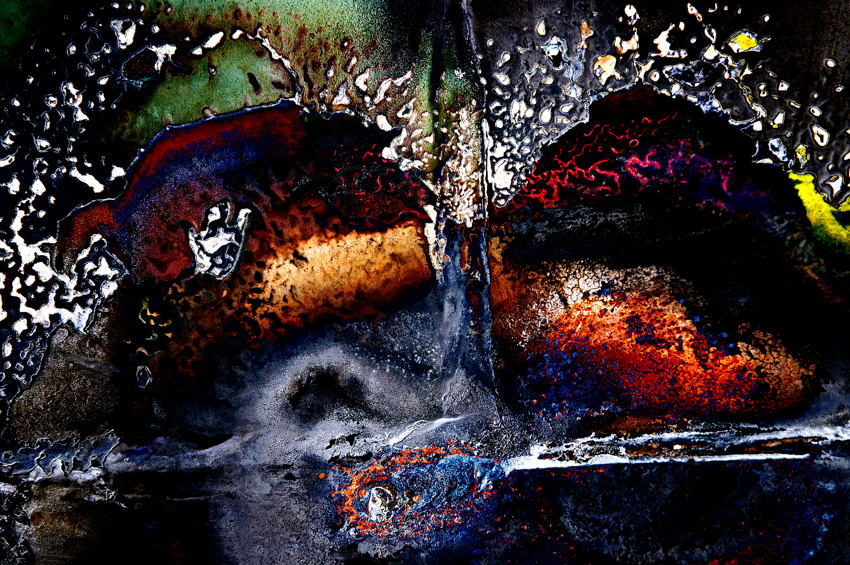 Spiritual Moments
by Jim Hartsen
Jim's exhibition is a dazzling tour de force of brilliant, spellbinding images, that have a spectacular rhythm of lines, shapes, forms, textures and values, together with extraordinary saturated colors, giving an organic coalition of every visual element possible. These exceptional prints are not emotionally neutral, the result of the complete absence of constricted awareness, freedom from a sense of self, and the reawakening of a creative and intuitive ability that has enhanced the author's visionary skills. Here, I am reminded of a quote from Diane Arbus, namely, "My favorite is to go where I've never been," a saying that is exemplified by these stellar images, and making my selection of just two of them to comment further on, very difficult, for they are all memorable.
I hope that every observer who has the good fortune to view Jim's prints, will be cognizant of the fact that it is not what you look at, but what you see that is so important. In H1041 there is a regeneration of a sense of wonder, that meaningful art is both mind changing and challenges the prejudices of conventional thought. The color palette is expressively awesome, with an exceptional range of deep, saturated hues, that totally integrate with all of the other visual features. I am very aware of that I am looking through a stylistic network of perhaps a cracked paint surface that is outlined in black to form powerful interstices, through which there is a metal mesh covering , that reveals extraordinary fine texture and surface detail. The center of these grids have been peeled away to reveal the secrets beyond. Against the background of a dark dome that is silhouetted against the deep blue sky, one is keenly aware of a highlighted, irregularly shaped water expanse. In the latter are ghostly reflections of a city's skyline, where skyscrapers that once towered above the landscape, are now reduced to irregular fingers of dripping paint. If that were not enough, there is spectacularly present a halo of fiery red, reminiscent of a sea of hot flowing magma, issuing from a volcanic caldera. I hope that other observers can add their own interpretations as to what they see in this truly creative and compelling image. (#H1041).
Peter A. Marr
For more information regarding my photographs
All photographs are copyrighted by Jim Hartsen.
Reproduction or Distribution of any work without
the artist's written permission is prohibited.